Applico has unveiled its second annual Top 50 B2B Marketplaces ranking and report.
It's very difficult to build a successful marketplace, especially one in B2B commerce. This report seeks to highlight the top 50 B2B marketplaces as ranked by the Applico team and touch on industry insights gathered through our research. Our 2022 ranking has 18 new entrants and seven companies that graduated off the list because they were acquired or went public.
B2B marketplaces had a phenomenal year of performance, raising over $2.2 billion in all of 2021. And, in the first nine months of 2022, they raised over $1.7 billion, with at least $330 million in the third quarter.
Investors aren't the only ones taking notice. Manufacturers, SaaS companies, large tech monopolies and incumbent B2B distributors have all taken material action in the past year to get more involved with B2B marketplaces. Schneider Electric and General Mills have both invested in one of our top 50. Linear, SaaS tech companies are evolving their business model to be a marketplace or investing in marketplaces. And, B2B distributors are making a record amount of tech investments and tech M&A.
Applico and Modern Distribution Management partnered in a "Distribution Platforms & Marketplaces – 2022 Snapshot & Strategies" webcast this past June, and further investment this year shows that the appetite for involvement on those platforms has only grown since.
The ranking is focused on independent, product marketplaces operating in the U.S., as opposed to marketplaces for services. Public companies like Xometry — one of our top 10 marketplaces in last year's ranking — or Grainger subsidiary Zoro, wouldn't be included.
The Top 10, and What They've Been Up To
Our top 10 list is as follows: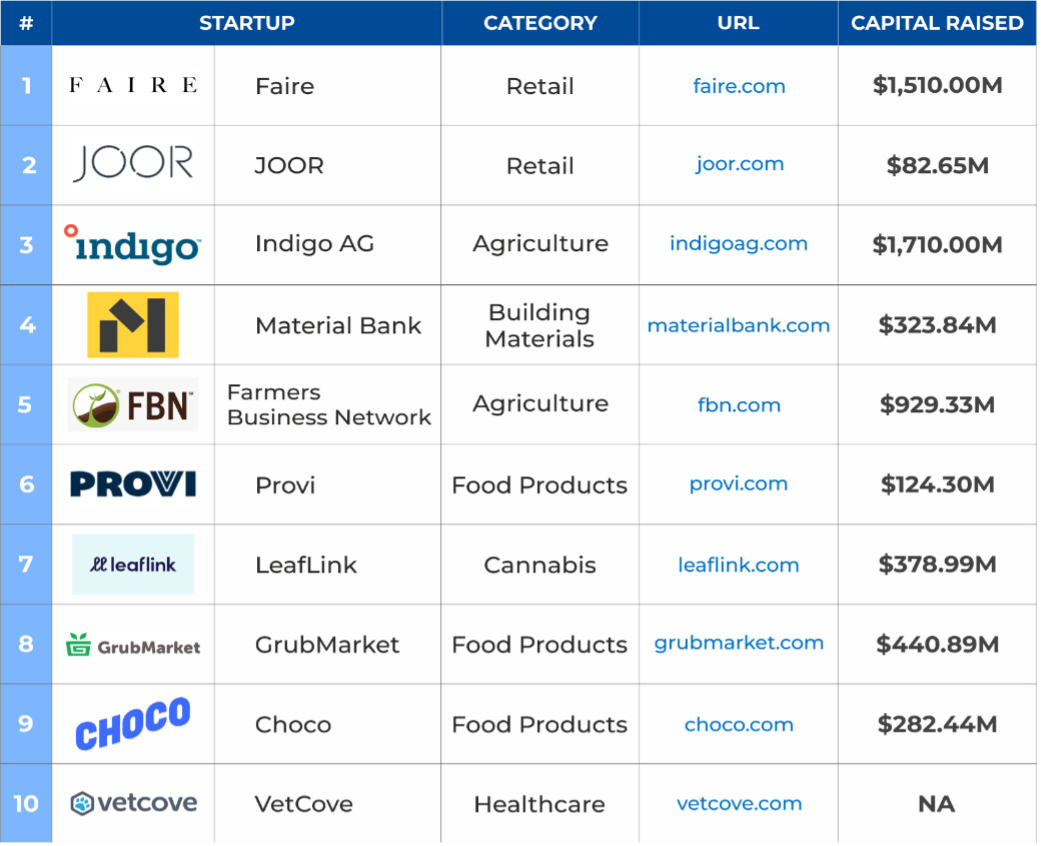 The top 10 marketplaces spent a lot of the past year focusing on revenue generation, as opposed to growing gross merchandise value (GMV). A wise decision in retrospect. A number of our top 10 have many billions in GMV, but their revenue trails far behind. To close the gap, they have invested in a variety of value-added services like B2B financing, logistics and fulfillment, and providing additional software tools to their buyers and/or sellers.
The great unbundling is well underway in B2B distribution. B2B marketplaces started with matching buyers and sellers. As they have grown, they have started to provide additional services that resemble what a traditional B2B distributor provides. The marketplaces are creating additional stickiness through both analog and digital means.
Grubmarket, a B2B food marketplace in our top 10, recently raised a $2 billion valuation from investors including General Mills. Not only has it seen an increased interest from suppliers to support and collaborate with B2B marketplaces, but also to make direct investments. Grubmarket is using that capital to buy linear, analog produce distributors. We did a deep dive on their M&A spree over the past few years and identified over 30 produce distributor acquisitions. In addition to analog, Grubmarket is providing digital services like wholesaleware.com, a cloud-based ERP which they provide to produce distributors at a steep discount to other competitor offerings.
Xometry, one of our top 10 B2B marketplaces from our inaugural ranking last year, recently bought a tech startup that provides software to their suppliers to help them run their business called FactoryFour. Now that Xometry has acquired the company, they are giving the software away for free to their producers (suppliers).
Joor and Xometry have both announced B2B fintech implementations to help their business customers with instant, net credit term approvals.
Material Bank acquired another one of our top 50 B2B marketplaces from last year, Architizer. Material Bank is new to our top 10 list this year and originally started as a marketplace connecting interior designers with samples from suppliers. A designer could order samples by 10pm and receive them by noon the next day — for free. How can Material Bank justify that? By selling those leads and insights to the suppliers. Now, Material Bank is moving downstream to capture the order flows for the actual jobs — beyond just samples. This is evidenced by Material Bank's acquisition of Architizer and their partnership with select B2B distributors.
See the Rest
For the full list of the top 50, download the free report here: www.distributionleadership.com.
Besides the ranking, the full report also includes:
Fundraising Statistics
GMV and Revenue Insights
Detailed Ranking Breakdown
Honorable Mentions
Vertical-by-vertical B2B Comparison
eCommerce vs. Marketplace Growth
SaaS Evolution into Marketplace
Creating a Culture of Innovation
Top 50 B2B vs. Amazon Business GMV